Look after the archives of your society, company, institution, or in your own possession
Download Caring for Your Theatre Archives from Playmarket here to help you decide what records to keep
Fill out the Theatre Archives New Zealand

Survey

of the holdings you have in your care
Or Let us know if you have theatre records of any kind under your care so that we can list them
Donate to Theatre Archives NZ.
Bank account details

030 515 0254106 00
*Theatre Archives NZ has charitable status. Please let us know of your donation so we can send a receipt.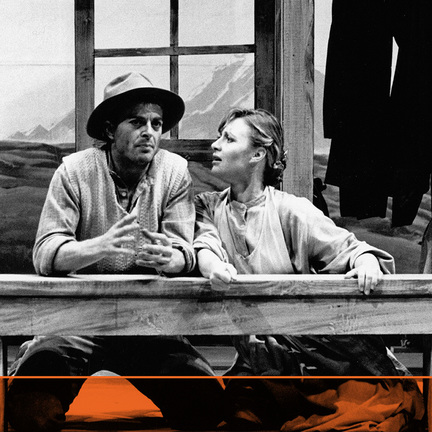 'Squatter' by Stuart Hoar, Mercury Theatre 1987, David Aston and Elizabeth Hawthorne. Photo: Mike Tubberty
Caring for your Theatre Archives is a manual for people dealing with theatre archives, and is designed to be an easy-to-follow guide.
The manual covers all the basic steps of archives practice, including:
What are Theatre Records and Archives?
Theatre Archives Management
A Policy for Theatre Archives
Collecting Theatre Archives
To Keep or not to Keep
Depositing your Archives
Documenting Theatre Archives
Taking Control
Appraising Photographs
Preservation and Conservation
Using Theatre Archives
Digital archive management
Appendices
As well as giving practical instruction on how to deal with archives, the manual includes Appendices that give useful examples and information on how to obtain supplies.

While the manual is published to give assistance to theatre archivists and others responsible for or holding theatre archives, it will be useful to all people who care for archives of small organisations, and who do not have ready access to training or to outside expertise.

The manual is available from Playmarket. Download it here